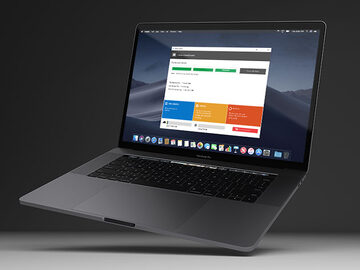 Overview
Description
•Think of all the information stored on your computer. Now imagine it all just disappeared — poof — tomorrow. Sounds pretty horrible, right? It's time to invest in cloud backup to ensure all of the info you hold near and dear is safe. Zoolz is one of the world's leading cloud storage solutions, residing on the ultra-secure AWS infrastructure, and allowing you to quickly, seamlessly, and automatically backup all of your files. You can schedule when and where that backup goes and ensure you'll always have access in the event of an accident. Plus, with 1TB of allotted backup space, you'll be set for life..
•Backup 1TB of Cold Storage w/ no limitations.
•Retrieve Cold Backup stored files in approximately 3-5 hours.
•Endlessly protect computers, network-attached storage (NAS), & external devices.
•Reliable data storage that resides on the ultra-secure AWS infrastructure.
•Get the highest quality service at the lowest prices in the market.
•Faster backups with deduplication, block-level uploads, & specified file retention.
•Reviews.
•Reviewster: ★ ★ ★ ★.
•★.
•TopTenReviews: "Number 1 Best Business Cloud Backup Storage Service".
System Requirements
•RAM: 512MB.
•Hard drive space: 200MB.
•Windows 7 and above.
•Mac OS X 10.7 or later.
Important Details
•License deadline: redeem within 30 days of purchase.
•Length of access: 1 year.
•Amazon AWS infrastructure.
•Includes 1TB of Cold Backup space for 1 user only.
•Includes backup space across 5 servers.
•Cold Backup has swift auto backup.
•Updates included.
•About the Developer.
•Zoolz is a market leading provider of cloud-based backup. Our mission is to provide an affordable and secure cloud solution for businesses and individuals..
•Our innovative platform is made with you in mind. The user experience is focused on simplicity, so you will be able to backup and access big data quickly and smoothly..
•The amount of unstructured data is growing and it's becoming a mounting challenge. We solve this with our latest product. Zoolz Intelligent doesn't just store documents, photos, videos, images or audio files. Instead, it analyses every file, structuring it in such a way that makes it easy and quick to locate, just like a search engine. But that's not all, in just a few clicks, you can secure all your files with military-grade encryption. That's why more than 3 million users across the world count on Zoolz..
•So, if you're looking for an efficient and innovative way of securing your data, then contact the team at Zoolz – the intelligent choice for cloud backup..
Terms
•Unredeemed licenses can be returned for store credit within 15 days of purchase.
                        Get The Deal Now