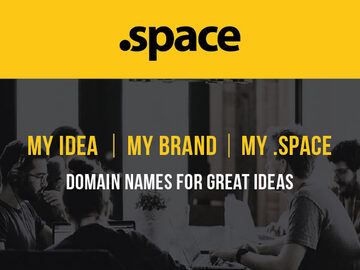 Overview
Description
•In today's digital world, your brand is your web address. With a .SPACE domain name, you can build a modern, disruptive and credible brand that carves out your unique niche in the world and represents you! Imagine .SPACE to be your own "space"—a new beginning, a bright new canvas, or crisp new notepad just waiting for your creativity to bring it to life..
•Reflect your expertise by definitively owning your digital space.
•Build your brand without compromise & take charge of your online presence.
•Create a strong positioning that is centered around credibility, innovation & disruption.
•Differentiate yourself & effectively define what you stand for.
•Get more distinctive & memorable w/ a domain that incites high recall.
•Help searchers find your website easily by choosing an easy & specific domain name.
•Rank higher on search results w/ simple keywords as your domain name.
•Redeem your coupon code on www.get.space & select the 3-yr subscription.
Important Details
•Length of access: 3 years.
•Redemption deadline: redeem your code within 30 days of purchase.
Terms
•The coupon code is only valid for purchase of standard domain names and not premium (high valued domains) or reserved (unavailable) names on www.get.space.
•This Offer not valid on renewals.
•Coupon codes are one-time use and will only work for the number of years mentioned in the deal.
•Standard domain renewals will be applicable after the registration period.
•Domains can be renewed either on www.get.space or any other registrar of your choice.
•Support is available 24×7 throughout the license period.
•Please write to support@get.space for technical or any other queries.
•In the case of Domain transfers to other registrars, transfer fees may apply.
•Radix reserves the right to deny use of this offer and/or cancel domains purchased using this offer if the offer is abused or used fraudulently, as determined by Radix in its sole discretion.
                        Get The Deal Now