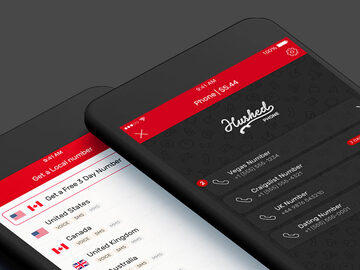 Overview
Description
•Keep your real phone number hidden while making calls and sending texts for work, dating, Craigslist sales, and more thanks to Hushed. You'll use their simple and secure app to easily make calls on your second number (you'll even choose the area code) without committing to another long, expensive phone contract. Customize your voicemail and use Wi-Fi or data to talk without expensive service charges. It's true communication anonymity delivered..
•"A viable, more lightweight alternative to something like Google Voice." TechCrunch.
•Use included plan towards a combination of 6,000 SMS or 1,000 phone minutes per year.
•Make calls & send texts from a private phone number without monthly fees.
•Choose from 100's of area codes across the US and Canada.
•Manage your communication from a single app.
•Access one lifetime number per account.
•Customize your voicemail.
•Set up call forwarding settings.
•Utilize Wi-Fi or data while you chat so you don't incur service charges.
Important Details
•Lifetime Plan includes: 6000 SMS or 1000 Min worth in credits per year.
•Numbers are available for the following countries: United States, Canada.
•License deadline: redeem code within 6 months of purchase.
•After 12 months, license is renewed automatically.
•Use at least once every 6 months in order to keep your unlimited number.
•Add more minutes or SMS credits to your account at any time.
•All US/Canada Hushed numbers can make or receive calls & SMS with any other phone numbers from US or Canada (international calling/texting to other countries is not supported with this plan).
•Choose from 100's of area codes across the US and Canada (Toll Free numbers not included).
•One '1 Line Lifetime Offer' per account with ability to purchase one of each bundled offers available (3 Lines/5 Lines) or as many additional numbers as you want.
•Hushed numbers are not guaranteed to work with 3rd party verification services and cannot be used for 911 emergency calls.
•Length of access: lifetime.
•Compatibility.
•iOS 10.0 or later.
•Android 5.0 or later.
•U.S. and Canada based phone numbers available.
Terms
•Instant digital redemption.
•US & Canada based phone numbers available.
•Phone numbers will expire if there is no usage for at least 6 months. You will be notified 48 hours before the 6-month expiry. Simply send an SMS or make a call to keep the number active..
                        Get The Deal Now